Writers:
Greetings to you. The frogs serenaded me last night; the birds awoke me with their songs.
Spring is here. It will fight an epic battle for the next few weeks with Old Man Winter. But she is here. There is a sense of newness in the air (I moved my winter greens to their Spring-time beds), and I saw a doe and fawn early this morning. It's all right here in front of us. But, sometimes I think we let the world and all its troubles detract us from the goodness and beauty right in front of us. I hope you have a chance to pause and reflect and allow the goodness and beauty to seep into you.
Enjoying life doesn't mean there isn't work, however. But, when it's writing work, creative work, it doesn't feel like work, right?
Today we continue making our way through the very last of The Artist's Way.
Today's task is this:
Build yourself a special creativity notebook. Number pages one through seven. Give one page each to the following categories:  health, possessions, leisure, relationships, creativity, career, and spirituality. With no thought as to practicality, list ten wishes in each area. All right, it's a lot. Let yourself dream a little here.
That's it. No other task this week from us. Just do that one. But you do have an opportunity tonight at the Writer's Café at Sawdust Coffee in North Bend, beginning at 6 p.m. to complete this task/prompt/creative nudge.
If you don't have an artist's date planned this week, please consider supporting one of our fellow writers and artists in the valley by attending a book launch/signing in North Bend.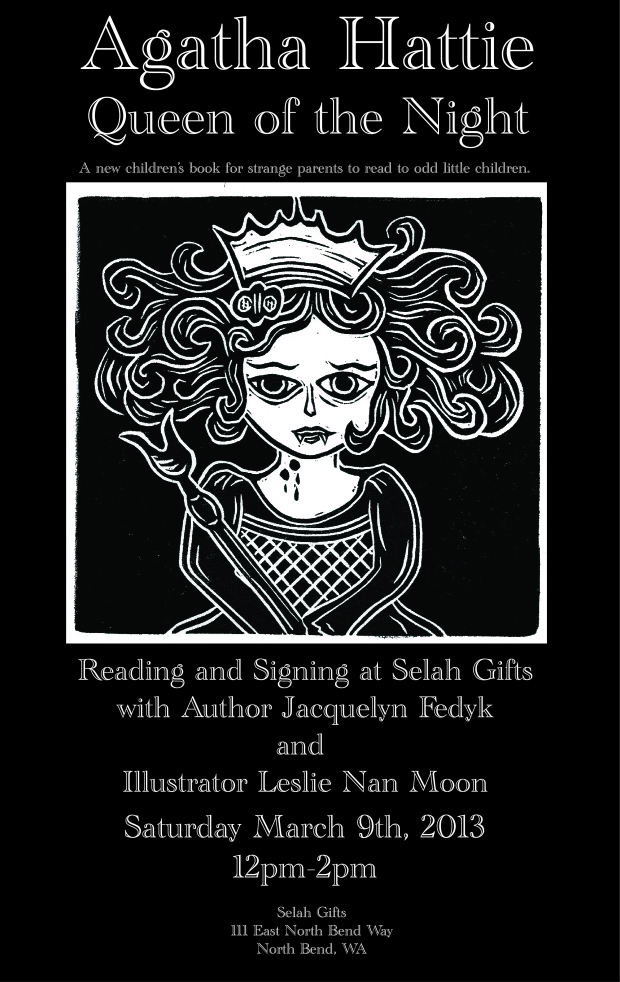 Agatha Hattie – Queen of the Night, written by our own Jacquelyn Fedyk and illustrated by local favorite artist, Leslie Nan Moon are being hosted by Selah Gifts on Saturday, March 9th, at Noon until 2 p.m. There will be a reading, signing, and definitely a chance for you to acquire as many copies of this great children's book. Please consider setting aside some time to support them. For more information, please visit http://agathahattie.wordpress.com/
Next work session for the group is March 12 at the North Bend Library at 6 p.m. Hope to see you all there.
And now your moment of Writing Zen:
"To keep the body in good health is a duty…Otherwise we shall not be able to keep our mind strong and clear." ~Buddha