What's New?
For the latest and greatest on what's going on with us, be sure to check out our calendar page, as well as our blog:  What did you write today? We have some exciting workshops coming up, as well all our writing cafes continue three times a week. Whether you just come for a cafe or for a workshop, or are industrious and do both, you're welcome here. It's always a creative safe zone!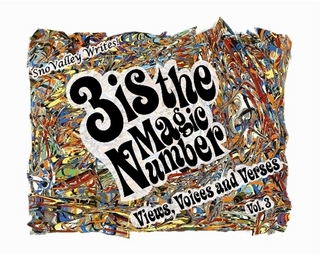 Our third volume of VIEWS, VOICES & VERSES Three Is The Magic Number, a literary journal featuring the work of SnoValley Writes! members based off of the writing contest prompt and performed at the group's third Word Jazz (held April 10, 2012 at Boxley's in North Bend, Wash.). You may order your copy online at Lulu.com or pick one up from one of a variety of Snoqualmie Valley merchants.
*****
The Bi-Monthly workshops at the North Bend library are back up and running on our new day and time:  the 2nd and 4th Tuesdays of the month, from 6 p.m. to 8 p.m. Hope to see you there!
**********
Want to know more about us? Explore our web site via the tabs above. You're in a creative safe zone here, so don't be shy!
**********